All we've done lately is watch movies. Which is fun, because we were so outta the loop for the longest time! This weekend I watched these 2 movies.
Bride Wars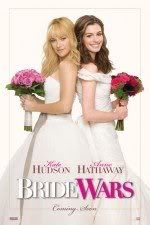 Bride Wars SUCKED. It was horrible. There was no moral to the story, nothing funny about it, it was very lame. And they made such a hype about it when it came into theatres. I totally wish I could get that hour and a half of my life back.
Observe & Report
Last night we went to see Observe & Report (Starring: Seth Rogen).
HYSTERICAL!
If you have a dark, vulgar sense of humor of course. But you should expect that if you like Seth Rogen flicks. It definitely kept us laughing.