The wait is over. The little Taquito is at the groomer as I'm typing this. Poor little guy was TERRIFIED of the groomer! I made a crucial mistake when going to get him and forgot the pet carrier, so he rode in my lap the whole way back. I was covered in fur, so came home to change clothes after I dropped him off. The groomer was crazy busy, so he won't be done until 1pm.
Tonight in order to hide the dog from Chayce, I'm spending the evening at my parents house with Tiki. Jon and Chayce are staying together, then we'll all get together tomorrow night for gift exchange and Chayce gets his puppy then!
How could I forget? I made the Mint Chocolate Brownies last night! For the first time in a LONG time, I managed to RUIN a batch. So it took 2 tries to get them, and I still have some things to learn to fix. I'm not good at making frostings/icings, and this recipe required TWO frostings. Perhaps this is where I fold in the towel, and just add flavors to store-bought frostings? :p Anywhoo, I'll try and snap some photos of those soon.
Now for the fun part. I DID manage to upload some pictures I took with the new camera yesterday! So without further adieu...
*We were at Barnes & Noble*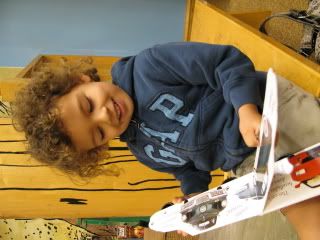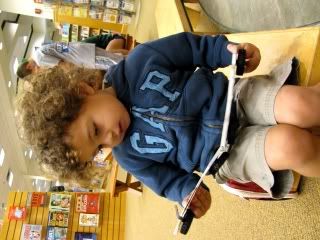 My favorite! Not even been edited, just played with the camera functions. WOW!
In case you were wondering what his tonsils look like... (LOL)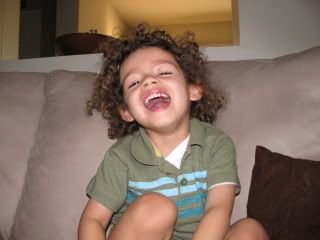 His contribution to helping make brownies...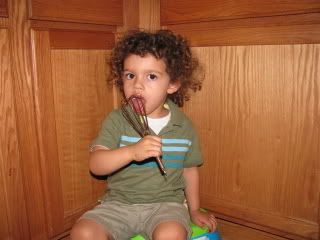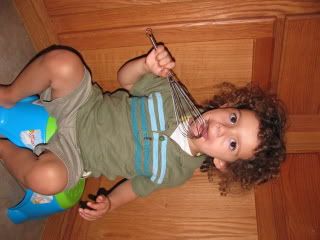 The whisk is a multifunctional tool. It works as a microphone as well.
Hamming it up one last time.
I was just so pleased with out crisp the pictures are. It's amazing. The camera has a 12x Optical Zoom lens on it. I'll try and remember to get some pictures of the brownies, and I'll get many of Tiki today!